At the just concluded 2020 Business Day Excellence In Public Service Awards which took place at the International Conference Centre, Abuja, the Managing Director and Chief Executive of Galaxy Backbone, Professor Muhammad Bello Abubakar, was recognised with the prestigious Business Day Excellence in Public Service award for his dedication and transformational leadership he continues to bring into his role as the Chief Executive of Galaxy Backbone which is a Public Sector Limited Liability Company set up to provide digital infrastructure and services to Ministries, Departments and Agencies.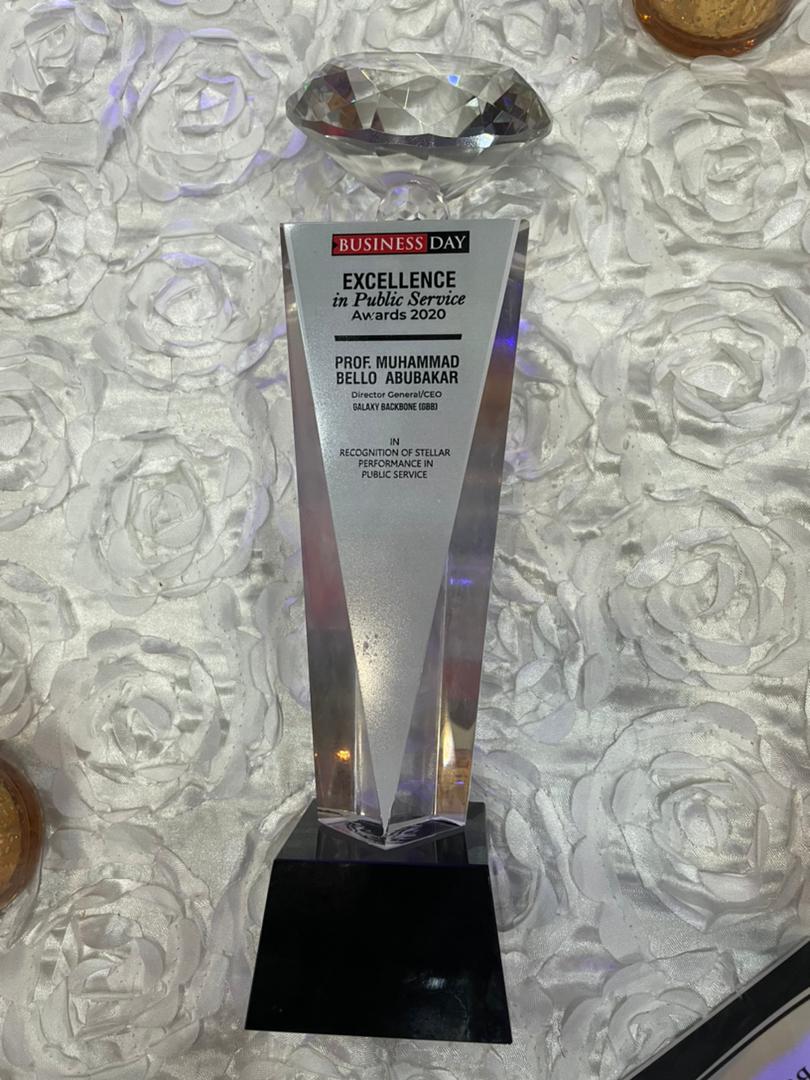 In presenting this award to Professor Abubakar, the organizers extolled the exemplary work Galaxy Backbone under his leadership has achieved during the height of the global Corona Virus Pandemic which continues to ravage the world. It was recalled that at the start of the pandemic, when it seemed as though operations could be stalled, the Honourable Minister of Communications & Digital Economy, Dr. Isa Ali Ibrahim Pantami, had directed that Galaxy Backbone step in, leveraging its infrastructure to ensure public sector organizations continue to function remotely in spite of the pandemic. Professor Abubakar immediately swung into action setting up a diverse team of Technical and Service Professionals that have continued to support weekly meeting of the highest decision making body within the federation, the Federal Executive Council in all its Virtual meetings. This same service has also been extended to other MDAs and most government establishments thereby enhancing the services offered by Galaxy Backbone (GBB).
In the same vein, Professor M.B. Abubakar, has demonstrated transformational leadership through strategic thinking and effective management skills, in the ongoing reorganization taking place in Galaxy Backbone. This has led to the setting up of a Research, Digital Innovation and Skills Department and other units that have prompted renewed and effective relationship with stakeholders and customers.
The Business Day Excellence in Public service awards is an annual event organized by Business Day to recognize leaders in public service setting excellent standards in their organization and in the delivery of their responsibilities.